Please fill in the form below to receive your quotation:
Add Personalisation
Text

Number

Text & Number
Text Element
Text & Number Element
Number Element
Skip Personalisation | Request a Callback
Product Info

Details

Electronically controlled Steinel

hot air tool

HG 2420 E - Supplied in Carry Case

Reliability for all demands. Electronically controlled HG 2420 E hot air tool. 2200 W, infinitely variable temperature setting from 80 - 650°C in 9 steps by thumbwheel. Airflow regulation in 2 stages from 150I/min to 400I/min. Suitable for construction site use, integrated fine dust filter. Outlet nozzle suitable for screw-on professional nozzles.

For Professional users. The HG 2420 E electronically controlled hot air tool is a powerful performer on any construction. Greater protection from dust and moisture, tougher design as well as a better insulated power cord to H07.

Features: 2200-watt brushless motor, rated for 1,000 hours of operation. The integrated fine dust filter protects internal component in dusty environments. The outlet nozzle is suitable for screw-on professional nozzles.

Service-friendly: The power cord can be changed without opening the enclosure.

Accessories: A comprehensive range of Steinel nozzles and consumables. Also suitable for Leister Nozzles.

This Heat Gun is not Compatible with the Temperature Scanner HL Scan

Downloads
Additional Information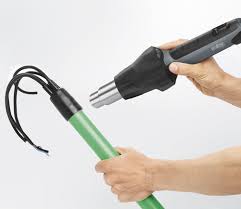 Industrial Heat-Shrinking for Wiring Harnesses
Can't find what you are looking for?
If you can't find what you are looking for, or need volume discounts, give us a call on +0044 1942 723101. Our sales team are always happy to help!
Contact Us