A cordless heat gun is the perfect solution when you are forced to work in tight places that are tricky to reach with an extension cord.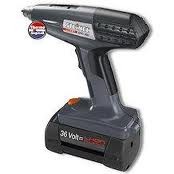 With cordless heat guns, there is no need to connect to the mains. You can take the tool anywhere – indoors, outdoors, in basements, on the roof – without a problem.
There's also no wire to get caught between your legs and the guns themselves are easy to manoeuvre in tight spaces. This allows for greater accuracy and less waste while you're working.
A Google search returns dozens of cordless heat gun products - ranging from small hobbyist units to larger, more powerful devices capable of delivering a bigger punch.
With our links to industry, Hilltop Products primarily supplies more professional buyers. For these customers, more powerful units are recommended for their purposes.
While they don't have all the power and operational longevity of their corded cousins, there are a few cordless heat guns that can deliver high temperatures in a controlled fashion.
Users have more powerful jets capable of completing heat shrink or soldering tasks much more quickly and they have longer between uses.
Steinel 360 Li-Ion
Steinel's BHG 360 Li-ion is the ultimate cordless heat gun. The tool's large 2.6Ah Lithium Ion battery delivers a whopping 36v of power and can create temperatures similar to those created by professional-grade corded heat guns.
The recorded maximum temperature of 400°C can be increased to 500°C using the correct reduction nozzle.
Hilltop Products offers the Steinel BHG 360 heat gun as a set including all the nozzles you will need for professional work.
The nozzles included are:
Reduction Nozzle with reflector guard
Reflector Nozzle 40mm
Reflector Nozzle 10mm
Reduction Nozzle 7mm
Precision Reflector Nozzle
When fully charged the cordless heat gun can deliver 15 minutes of continues heat. This is a long time given the power of the heat shrink gun when it is used for targeted applications like applying heat shrink, welding plastic and softening adhesives.
The battery recharges fully in 60 minutes and users can get a 75% charge from just 30 minutes of charging time.
The cordless heat gun has been designed to be easy to use. It has an ergonomic design, that uses clever weight distribution to balance neatly in the user's hand. It is also fitted with a LED work light to make working in dark corners a little more tolerable.
To learn more about the Steinel BHG 360 cordless heat gun, speak to a member of our accounts team. Call: 01942 723 101.