STEINEL heat guns are a firm favourite for professional tradespeople. The heat guns combine state of the art technology, solid workmanship and innovative attachments to make them ideal for a whole range of purposes.
The heat gun nozzles are all top-of-the-range and make life easier in all sorts of industries including electronics, flooring, roofing and much more.
This guide looks at all the most popular STEINEL heat gun nozzles.
STEINEL Hinged Reflector Nozzle
STEINEL's hinged reflector nozzle is the only adapter that gives a full 360-degree heated air flow around your substrate. Developed for the electronically controlled HG 5000 E professional hot air gun, the hinged adapter will fasten closed around your cable giving you an even air flow in every direction.
This reflector nozzle is perfect for intricate work, where a consistent temperature is critical to not damaging components. It can be used for manufacturing wire harnesses and is useful in the automotive, electronics and aerospace industries.
STEINEL Shell Reflector Nozzle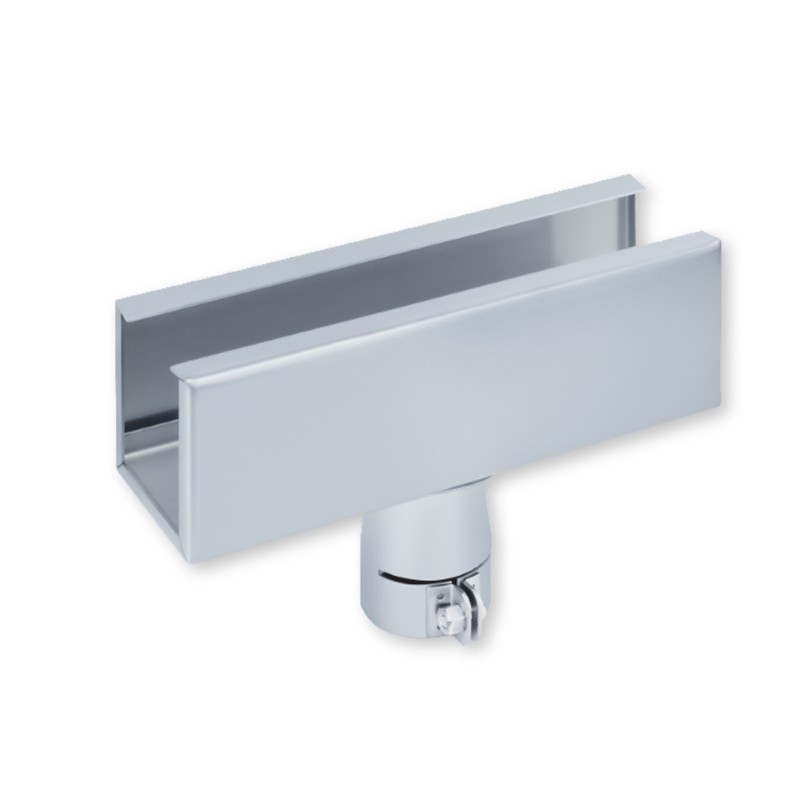 STEINEL's shell reflector helps you direct hot air evenly around longer substrates. It is perfect for applying heat shrink tubing and comes in two different sizes to fit different STEINEL hot air guns.
The 250 x 45 mm shell reflector is designed for the HG 5000 E professional hot air gun and the 150 x 25 mm adapter fits hot air tools HG 2420 E, HG 2620 E, HG 2520 E, HG 4000 E and HG 2300 EM.
These advanced STEINEL heat guns give the user effective control over temperature output to prevent scorching or blistering tubes or sleeves.
STEINEL Sieve Reflector Nozzle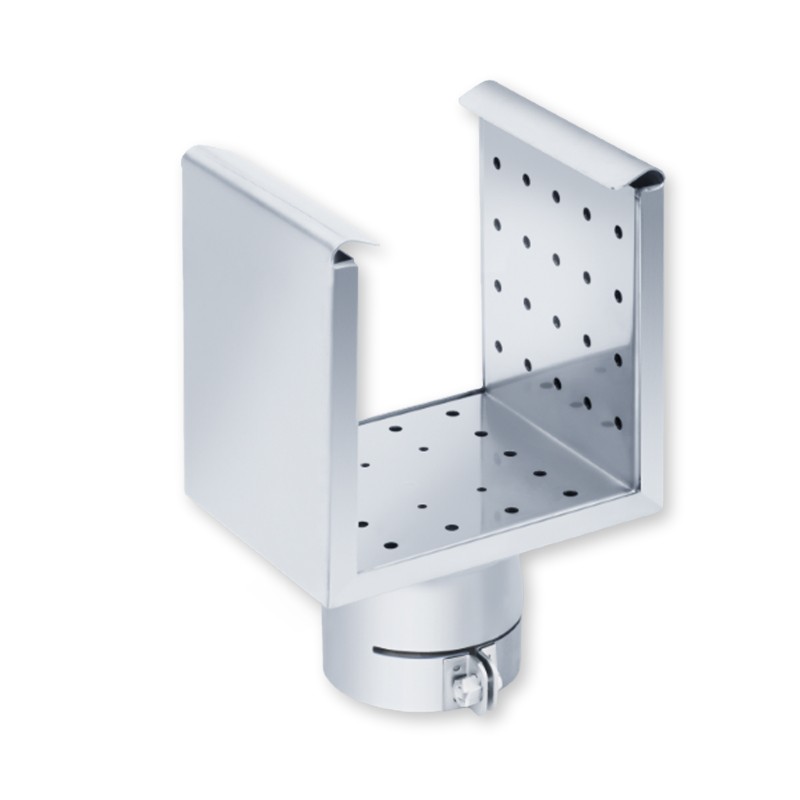 STEINEL's Sieve Reflector Nozzle is another kind of reflector that is used to give more even temperature and air distribution during heat shrinking.
The 85 x 85mm sieve nozzle (pictured) is suitable for larger-type workpieces and is particularly good for bundling several wires with a piece of heat shrink tubing. The 85mm nozzle fits the HG 5000 E professional hot air gun.
A smaller adapter, the 50 x 35mm version has a rounded design but performs a similar function to the 85mm adapter. The 50mm nozzle fits HG 2120 E, HG 2220 E and HG 2320 E, HG 2000 E, HG 2300 E and HG 2310 LCD plus the HL 2020 E and HL 1920 E, L 2010 E and HL 1910 E models.
STEINEL Perforated Flat Nozzle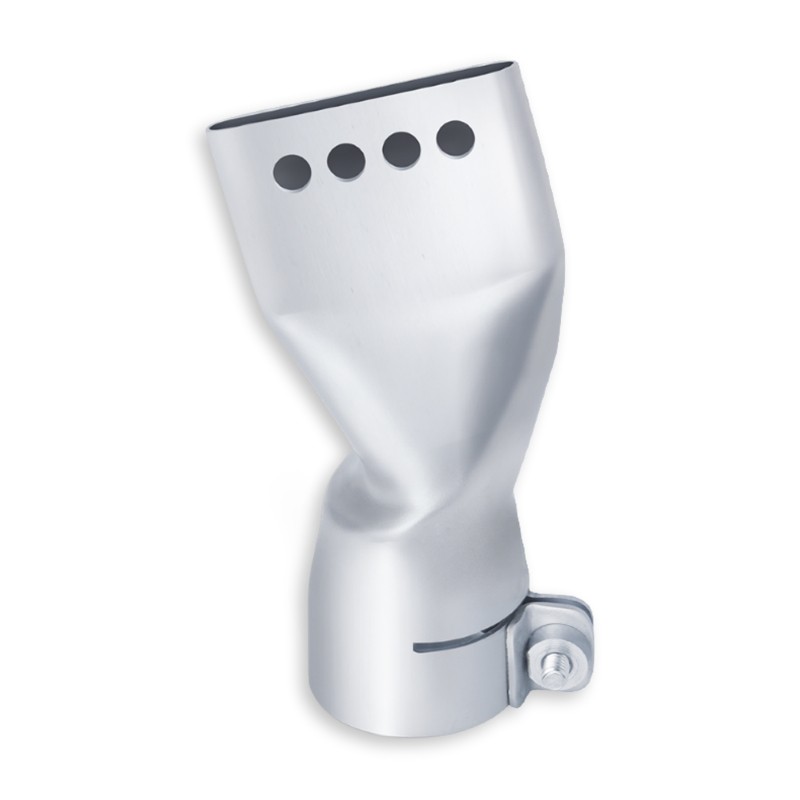 The STEINEL perforated flat nozzle is designed for speedy welding. Small holes that are punched into the side of the nozzle help disperse hot air along the length of the adapter and make it easy to pre-heat plastics before welding them.
Flat nozzles are perfect for welding materials with large surface areas, including roof membranes, plastic sheeting and tarpaulin.
The STEINEL nozzle is designed for STEINEL tools HG 2420 E, HG 2620 E, HG 2520 E, HG 4000 E and HG 2300 EM.
STEINEL Surface Nozzle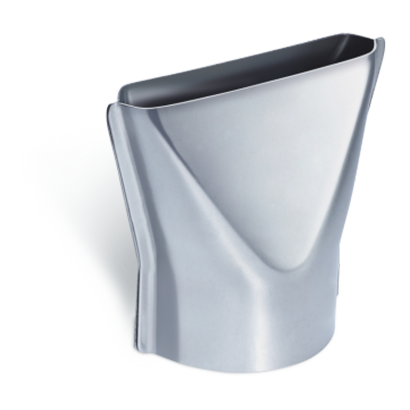 STEINEL surface nozzles have a wide range of different applications. The wide nozzle can distribute air over a large surface area quickly and easily.
They can be used to loosen adhesives and detach products without damage or apply adhesive products like stickers, decals and other flat-surface products like window tinting gear. Surface nozzles are used widely in the automotive and aerospace industries for this kind of work.
Surface nozzles can also be used in the packaging industry, where heat guns can be used on shrink wrapping to tighten up plastic packaging. The heat guns can also be used on foam inserts to custom fit them to delicate products.
The 75mm and 50mm surface nozzles are designed to fit HG 2120 E, HG 2220 E, HG 2320 E, HG 2000 E, HG 2300 E, HG 2310 LCD, HL 2020 E, HL 1920 E, HL 1620 S, HL 2010 E, HL 1910 E, HL 1810 S and HL 1610 S STEINEL heat guns.
STEINEL Reduction Nozzle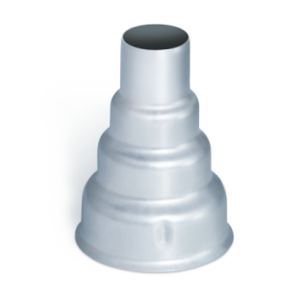 Reduction nozzles are perfect for concentrating airflow and heat for desoldering, welding and a range of other purposes.
In the automotive industry, heat guns are used regularly to repair tears and remove wrinkles in vinyl and leather. Tears are cleared of any stray threads and covered in a compound that matches the colour of the surface – heat is then applied using a reducer nozzle directly to the area that needs repair.
Reduction nozzles are also used to solder and desolder components in the electronics industry. Concentrated heat (400-455°C) loosens the solder joints, allowing the component to be removed with pliers.
The 9mm reduction nozzle delivers a hot air stream with pinpoint precision while the 14mm nozzle produces a slightly less concentrated stream, perfect for plastic welding.
STEINEL Welding Nozzle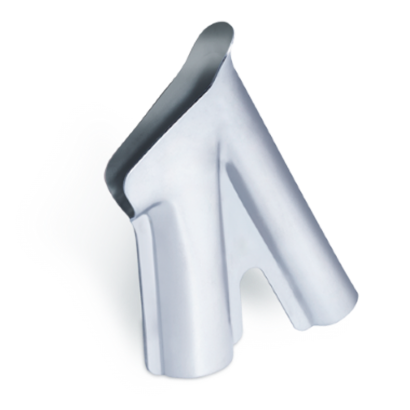 Plastic welding nozzles are used across a variety of industries and for different purposes. Flooring installers use heat guns to weld PVC in flooring seams. Plastic welding is also used in the automotive industry, facilities maintenance and prosthetics to repair plastics.
The materials to be welded should be prepared properly and placed into position. Then you can heat the seam and feed a welding rod into the nozzle where it will be heated and applied. The heat gun is then dragged along the length of the seam to apply the plastic.
STEINEL Reflector Nozzle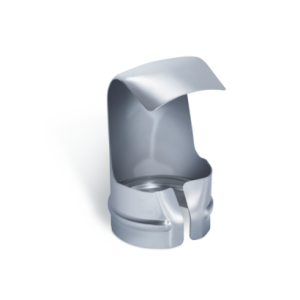 Reflector nozzles are used in electronics and various other industries to apply heat shrink tubing to wire and cables. The reflector nozzles spread hot air around a wire, allowing it to be applied more accurately and quickly without damaging the electronics.
They are particularly useful in cable harness manufacturing, where a lot of heat shrink material needs to be applied in an area where there are lots of wires and components that could suffer damage.
These larger reflector nozzles are particularly useful for grouping together large groups of wire and applying heat shrink tubing to them all.
STEINEL Flat Angled Nozzle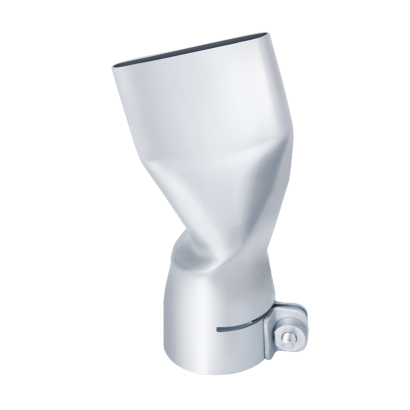 This style of heat gun nozzle is used primarily in the roofing industry to lap weld difficult to reach areas, such as near vents.
The flat angled nozzle helps concentrate a hot stream of air around difficult angles. Turned up on high (415-470°C) the PVC is heated between overlapping sheets of material until the surface becomes soft enough to stick together. Pressure can then be applied with a roller to ensure that the two items are stuck together.
The flat angled nozzle is available with a 40mm nozzle and a 20mm nozzle.
STEINEL Round Reduction Nozzle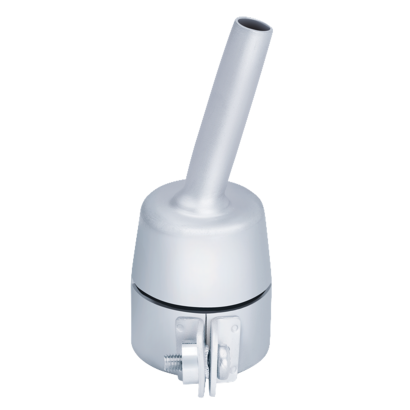 STEINEL's round reduction nozzles provide pinpoint accuracy for hot air streams and are regularly used to weld plastic PVC in flooring joints and seams.
These hyper-concentrated reduction nozzles can also be used for welding plastic sheeting and for soldering and desoldering in electronics industries.
The round reduction nozzle is available with 5mm and 10mm holes.
For more information on any STEINEL products, speak to a member of our knowledgeable accounts team today. Call: 01942 723 101.