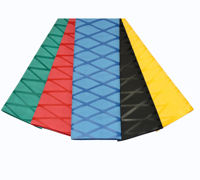 Whether your into Cycling, Tennis, Badminton or Weight Lifting we have the ideal sleeve / grip for you!
Try our Non Slip Textured Heat Shrink Sleeve - It's the Best Non Slip Grip Sleeving around.
Ideal for covering Handle Bars, Racket Handles and much more...
For more information, see our products page >>>

Features & Benefits:
Unique surface designed by enviromental friendly PE material for durable abrasion.
Economical and install friendly, it's well suited for the DIY market.
Minimum shrinkage temperature: +70°C.
Full recovery temperature: +105°C.
Operating temperature: -55°C to +105°C.
Applications such as: Tennis rackets, badmington rackets, fishing rods, baseball bats, billiard cue, hockey sticks, industrial hand tools, athletic equipment and various handles.
Increased friction and safety on smooth surfaces minimizes slipping.