The Hot Jet S is the smallest handheld hot air tool made by Leister Technologies. The heat gun is light and easy to manoeuvre, making it a firm favourite for dozens of tasks.
The Hot Jet S is commonly used for plastic welding, speed welding, plastic tacking and melting heat shrink tubing. But for maximum versatility you need to use different nozzles for different tasks.
Nozzle attachments fix onto the heat gun and direct and manipulate hot air in different ways to get different results.
Made from stainless steel, all the nozzles are strong and sturdy and sure to last a long time.

Hilltop Products stocks a huge variety of Leister products including the Hot Jet S and Leister accessories. Many of the Hot Jet S tools we sell are for plastic flooring specialists.
Here is our guide to the nozzles for the Leister Hot Jet S, their uses and what you will need for each job.
Standard 5mm nozzle for Hot Jet S - 107.144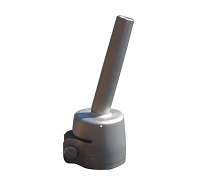 This is the standard nozzle to fit onto the Hot Jet S. This nozzle can be used by itself for a few basic applications, but it is also used to fit other attachments like the speed welding nozzle and the tacking nozzle on top of it.
This attachment is regularly used for:
Car bumper repair
Vinyl floor welding
Plastic fabrication and repair
The nozzle push-fits onto the Hot Jet S Heat Gun.
Wide nozzles 15mm and 20mm – 107.141 and 107.142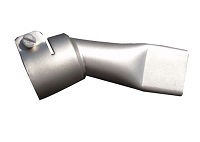 Wide nozzles squash air into a flat head, making them perfect for plastic surface fabrication and welding. The nozzles quickly and easily weld plastic sheets together. They can also be used for fixing floor and roof membranes.
These attachments are usually used with the specially crafted Leister pressure roller to make sure that you get a smooth finish on your plastic welding job.
These nozzles fit straight onto the Hot Jet S, they do not attach to the standard 5mm nozzle.
These nozzles come in two sizes, 15mm and 20mm. Our sales advisers will be able to offer some advice on what is more suitable for your job. Get in touch for more information. Call: 01942 723 101.
Hot Jet S speed welding nozzles – 106.989, 106.990, 106.991 & 105.433.
Some of the most popular nozzles, particularly for use on smart plastic flooring and for high speed precision welding in plastic fabrication and repair.
Let you feed the plastic into one hole, heats up and is applied quickly and precisely to your desired surface (see video below). It is a fast way of making a smooth seal on plastic surfaces.
Hilltop Products stocks four different types of speed welding nozzle for the Hot Jet S heat gun – 3mm (106.989), 4mm (106.990), 5mm (106.991) and 5mm narrow (105.433) nozzles.
Sieve reflector nozzle for heat shrinking – 107.324
The sieve reflector can seem like an oddly shaped nozzle at first, but there is good reason for its curvy head.
The curved sieve design distributes the hot air evenly around a point in its centre. This makes the heads ideal for heat shrinking material.
If you have a lot of heat tubing to manipulate, this attachment lets you do it quickly and easily.
Tacking nozzle – 106.996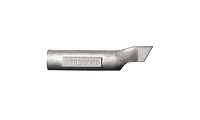 Tacking nozzles have a whole range of purposes but are primarily used in plastic fabrication and repair.
They can be used to repair gashes in plastic materials or to weld pieces of plastic back together.
If you have any more questions about any Leister products and their attachments, please contact a member of the sales team. Call: 01942 723 101.