Cable spiral wrapping is a type of reusable binding that can be used to protect and organise your cables.
It is a near binding solution that works well on cables that may need to be unwrapped and wrapped semi-regularly. The wrapping keeps unruly cables tightly bound and helps protects cables from abrasion and sharp edges.
The affordable binding is useful for a whole range of purposes in industrial environments, in the office and at home.
You can use spiral wrapping for:
Computers
Warehousing
Industrial applications
Entertainment systems
Meeting room AV equipment
Cycling brake cables
Important cables and wires (such as power tool cables)
Hilltop stock a wide variety of different spiral bindings.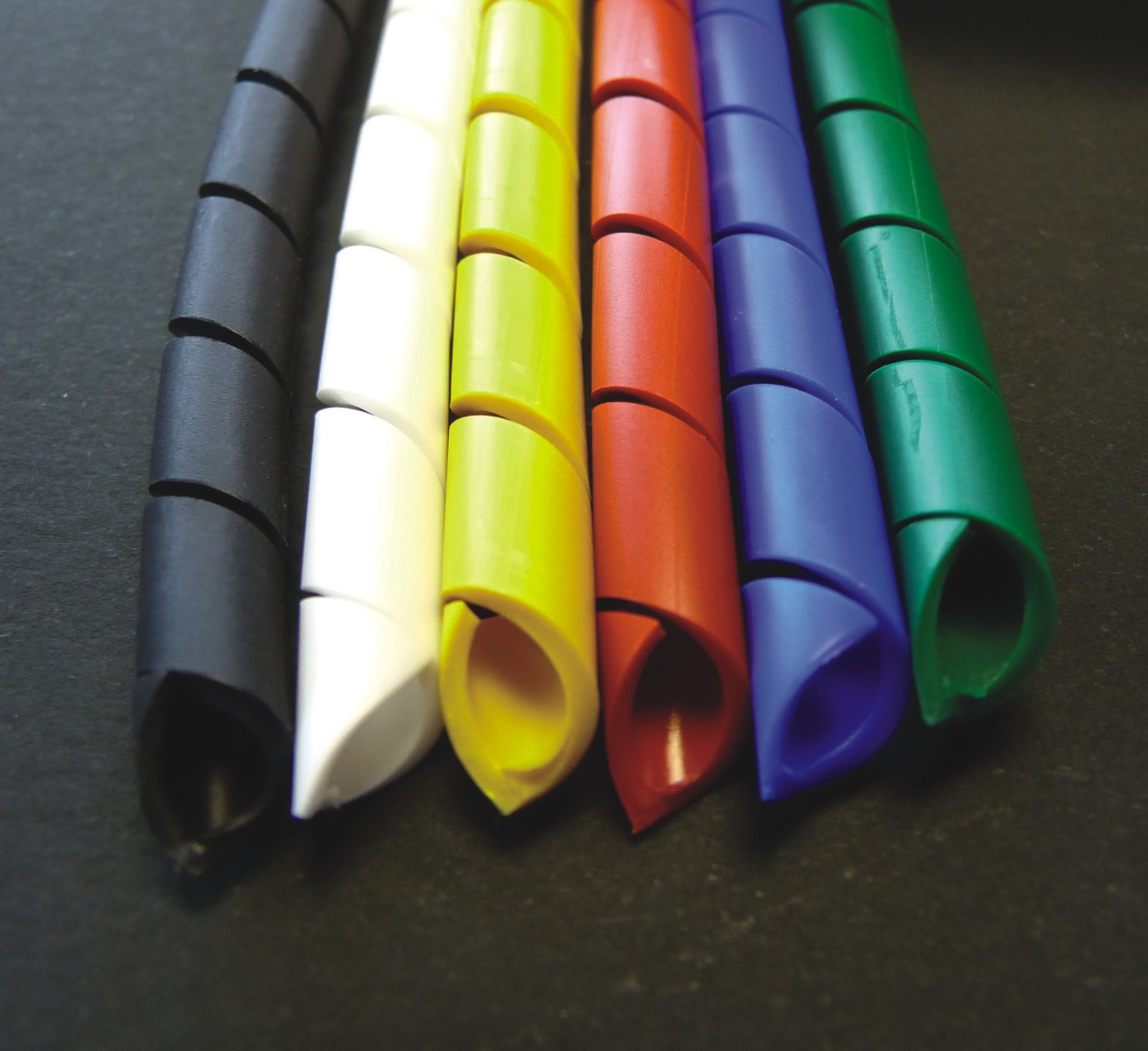 The most affordable option is a flexible spiral cable binding that's easy to apply to a wide range of wire bundles and cable harnesses.
The reusable cable binding is available in a range of different colours and sizes, from 3mm up to 22mm.
You can check what diameter wrapping you will need by measuring the diameter of the cable or cables that you wish to bind.
Perfect for organising loose cables at home or around the office, and very easy to apply. Simply cut the spiral binding to size and wrap around the cables one bind at a time.
The flexible construction will mean you can still move the cables any way you wish, with a neat and durable finish.
Remember that using spiral binding wrap, different cables can leave the bind at different points, helping you maintain neatness.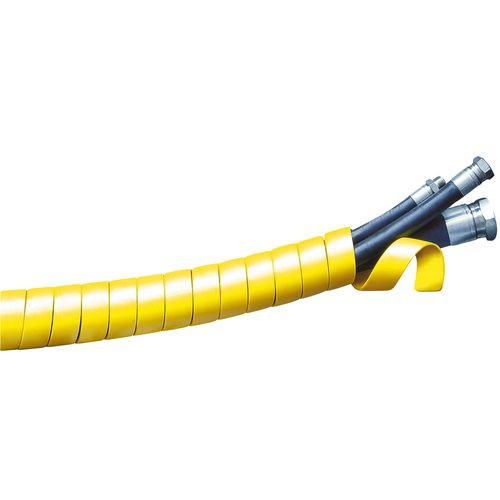 When you need to remove the spiral binding, just unwrap in the opposite direction. This spiral wrap binding can be reused many times without breaking.
Yellow Spiralguard wrapping is a heavy-duty solution for the protection hydraulic, pneumatic and industrial hose assemblies across a wide range of industries.
The wrapping has a high resistance to abrasion and is comfortable operating between continuous temperatures of -65°C and 95°C. It can also withstand intermittent temperature highs of 130°C.
With a minimum diameter of 13mm and a maximum diameter of 44mm, yellow Spiralguard wrapping can be used for single hoses can be used for single hoses and bunches of hoses.
Black Spiral Guard Fras wrapping is another heavy duty spiral binding designed for hosing.
The fire-retardant wrapping has been approved in accordance with the former British Coal specification 182:1986. It has also been tested and approved by Mine Safety Laboratory Department of Mineral Resources, NSW to AS2660 FRAS Compliance 1991 satisfying the requirements of the non-metallics scheme for use underground.
If you have any questions or would like to place an order by phone, please speak to a member of the team. Call: 01942 723 101.