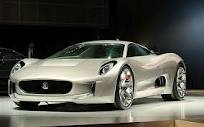 You never know what can happen when the phone rings....
One of Our Key Account Customers – Leoni Wiring Systems needed some of Hilltop's materials urgently for re-work on one of their prototypes. Not any standard prototype, No, this work was being carried out on the New Jaguar Williams Hybrid Electric Supercar.
We found a solution from our product portfolio and one of our Sales Managers took it to their Newcastle Under Lyme site to ensure they received it as quickly as possible.
It is also nice to get recognition for your efforts, Email from Customer:
Thank you for bringing the Hillflex and Hillwrap with you today – they are greatly appreciated by our rework team down at Williams F1!
Hilltop Products, we go the extra mile for our customers....