Hilltop Products are pleased to announce that they are Chest Sponsors of the Leigh Centurions for a second season.
Hilltop's logo will once again take pride of place on the front of the rugby league club's kit.
Steve Hill, Managing Director of Hilltop Products said: "Hilltop is full of passionate rugby league fans. We have been a proud sponsor of the club for several years now and have enjoyed highs and lows with the Centurions.
"It didn't go all the Centurion's way last season but Hilltop is honoured to support the club again in 2018."

Hilltop Products' Steven Davies and Rebecca Davies with the Leigh Centurions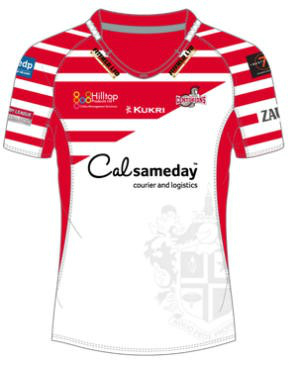 At the start of the season, the Centurions named the bookies' favourites to win promotion to the Super League.
Leigh were controversially relegated from the top-tier last season, despite not finishing bottom of the table.
Widnes Vikings ended up with the wooden spoon in the normal campaign, but Leigh Centurions one season stay in the top flight was ended when they lost to the French Catalans Dragons in the so-called Million Pound Game.
Neil Jukes, the manager of Leigh Centurions, told BBC Radio Manchester that the play-off game should be scrapped when his side was relegated.
The Leigh club has sought to re-build with some important signings.
They pulled off a major coup signing Peter Mata'utia from the Australian NRL alongside other players enticed from England and abroad.
Leigh Centurions faltered at the start of the new season when they lost at home to Canadian side Toronto Wolfpack but bounced back last weekend with a six-try victory over Batley.
The Canadian side, which is the world's first transatlantic major professional sports team, could only manage an eight-all draw in their recent game.
Having won rugby league's third tier competition last year, Toronto Wolfpack were promoted to the Championship for the 2018 season. They aim to make it all the way to the top table of the Super League.

Leigh Centurions sponsors, including Stephen Hill and Steven Davies (right-hand side).
Hilltop started as Leigh Centurions' Chest Sponsor last season when the club was battling it out in the top-tier of rugby league.
The company has a long association with the Centurions and has previously supported players and events. Hilltop Products is currently exploring new ways they can support the club.
The fast-paced game of rugby league appears to be enjoying new popularity abroad and at home. New English interest is due, in part, to the country's strong showing in the 2017 Rugby League World Cup, where they narrowly lost to Australia in the final.
England's next big test is a three-match autumn Test series against New Zealand in Autumn 2018. With games in Hull, Liverpool and Leeds, all three of the matches will be shown live on the BBC.