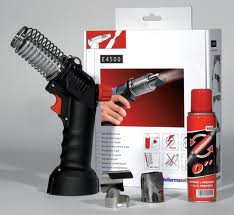 This is a new addition to the Hilltop Heat Gun family. The 4500 kit consists of a cordless gas heating gun with protective spring and a range of accessories including two different sized nozzles and a gas cartridge.
All you need in ONE Kit.

The hot air gun is a very convenient and compact tool, weighting only 760 g which operates with a gas cartridge (Type P444, Butane/Propanem or type 445, M.A.P.+ Butane+Propane). It has an automatic piezo electric ignition and a valve controlled temperature setting.
The hot air gun can be operated on its stand for hands free use. The build in stand prevents the tool from tipping over.

The gas cartridge has a continuous burn time of approx. 1.5 hours. The 4500 can be used with no connection to electrical power supply and allows precise working in any position even in restricted spaces.
The 4500 hot-air gun is ideal for working in cramped spaces or where there is no power supply. The gun is suitable for shrinking all types of heat shrink products including tubing, shapes and cable repair sleeves. It can also be used for the bending and shaping of PVC pipes, soft soldering of copper pipes, drying, defrosting (of locks), heating and paint stripping.
Click here for more product details >>>>