How can a glue gun, heat gun, rapstraps, cable ties or weatherproof box come into use this Halloween?
Well, if you're creating your own costume, looking to make your home spookier or get the kids doing some Halloween crafts, we have just the tools to make those tasks that little bit easier.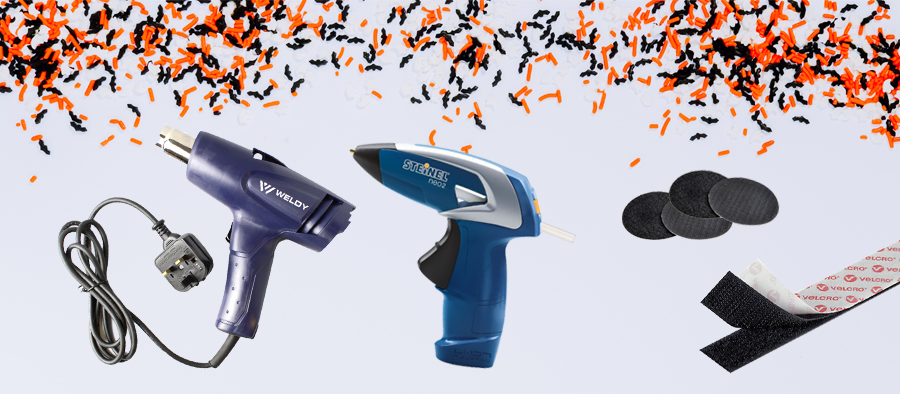 Tools to Help Create Halloween Costumes
If you've decided to make your own Halloween costume this year instead of splurging on something pre-made, you'll be wanting to make sure that every little bit looks perfect. To do that you'll need the right tools, and maybe there's something you hadn't quite thought about utilising.
We sell various tools that have a wide range of uses and aren't just for industrial or warehouse-type work. They might just be exactly what you need to get that last bit of your Halloween costume patched up or finished.
Products such as glue guns or heat guns will ensure that any little bits such as buttons or fabrics will be stuck down without the need for any sewing, or you can even use the velcro dots for a quick fix. It'll save time and give strong results.
Decorating for Halloween
Outfit sorted – now to dress up your house! Decorating without causing damage to the walls or surroundings is pretty easy when you have the likes of Velcro, Rapstraps or even just regular cable ties at hand.
The Velcro brand has a range of hook and loop attachments such as tapes, dots and even their own 'sticky' cable ties. These Velcro attachments will stick to almost any surface and give a strong hold.
If you need to secure hanging or wall decorations, cable ties might be the way to go. We sell them in a variety of colours so you'll be able to find the colour that matches your needs, making them blend in easily. Rapstraps aren't available in as many colours however they are removable and reusable, meaning you can use them time after time without any waste.
If you're looking to decorate outside too but are worried about wires or cables being left out in the rain, the weatherproof box is just the thing you need. It comes with a 4-Gang 10m extension lead, so you don't even have to worry about having any spares.