Has it always been a dream to have your own home theatre or cinema room? A giant screen, bumper surround sound system set in front of a giant sunken sofa?
Maybe your front room is drowning in set top boxes, games consoles, DVD players, WiFi routers and internet connected devices.
The number of appliances these days means that your home entertainment systems can get very cramped and cluttered up with wires.
And god forbid if you ever need to unplug anything. You could be stuck behind your television set for hours trying to unplug the right cable.
It doesn't need to look like this.
Simple cable management techniques and products can help tame all your entertainment system cables and stop you getting into a tangle.
Good cable management isn't just for obsessives. It can make your room look much more homely and relaxing and can improve safety, particularly if you have wires traipsing across a room.
Here are some basic tips to help you get started.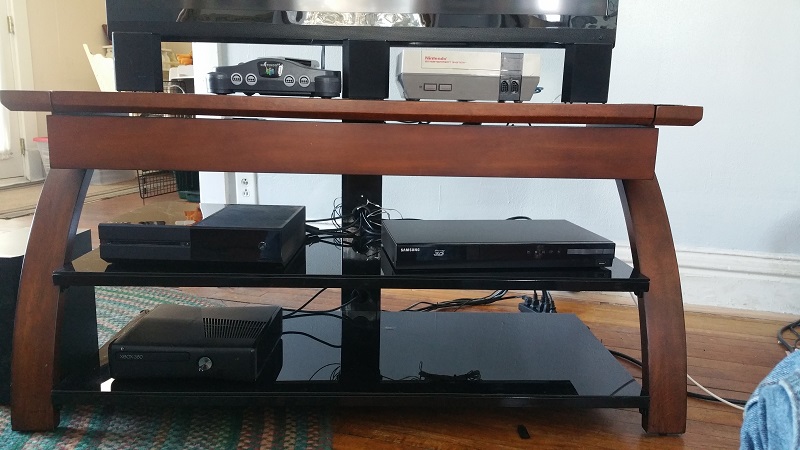 Bundle cables using cable ties
If you have got lots of power chords and audio-visual cables weaving between power sockets, boxes and screens you would not believe how much of an impact bundling will make.
The cheapest way of bundling your cables is with cable ties.
Plastic cable ties can be used, but you need to be careful that you don't tighten them too tight. And if you need to unbundle one wire then you'll need to cut the bundle and apply a new one.
Velcro cable ties are better because they can be re-used as many times as you please. Dragon's Den-developed Rapstrap cable ties are also reusable and can be stretched out to fit any cable bundle.
One top tip is to make sure you bundle power cables and audio-visual cables separately, this will help you get rid of a lot of cable 'bulk' and will make the cables easier to move around and manipulate.
Fasten cables in place
If bundling wires is the first step towards cable management nirvana then attaching those bundles in place is the next step.
Fastening the cables to the wall or to the back of your home theatre unit helps keep them clean, honest and tidy.
If you have used cable ties, then adhesive cable tie bases can be attached to any wall or the inside of any cabinet and attached to the cable ties supporting your bundles.
It is important to make sure that you match the shape and size of your cable ties to the cable tie bases. If you are using Velcro cable ties, then adhesive Velcro dots you can use to support the cable ties.
Hide cables in trunking
Fastening cables inside and outside cabinetry keeps cables out of the way, but they are still visible. If you want to hide cable bundles then plastic decorative cable trunking is an ideal solution.
There's no need to put wires in walls, cables can be bundled up inside small D-shaped plastic tubes that don't look out of place in your home.
Cable trunking comes in different sizes and the white colouring makes them easy to blend into your walls, particularly if you paint the walls a nice neutral colour, which is good for home cinemas.
You might also want to consider smart-looking braided cable wrapping and floor cable covering that is particularly good for covering wires going to surround sound speakers.
Hide plug sockets in a cable tidy unit
A good home entertainment system will have several plugs and will probably require a plug socket extension block, which can be large and unsightly.
A cable tidy unit, which houses the socket extension in a neat block is the perfect solution for your home entertainment system.
With big screen systems, it is rare that you will have to go plugging and unplugging sockets so hiding them way inside one of these pods is great.
There are smaller units for four way socket extensions and larger units for six way socket extension blocks and the units are available in white and black.
You can also attach your plug socket extenders to the wall or the back of the TV to eliminate some of the clutter behind your back.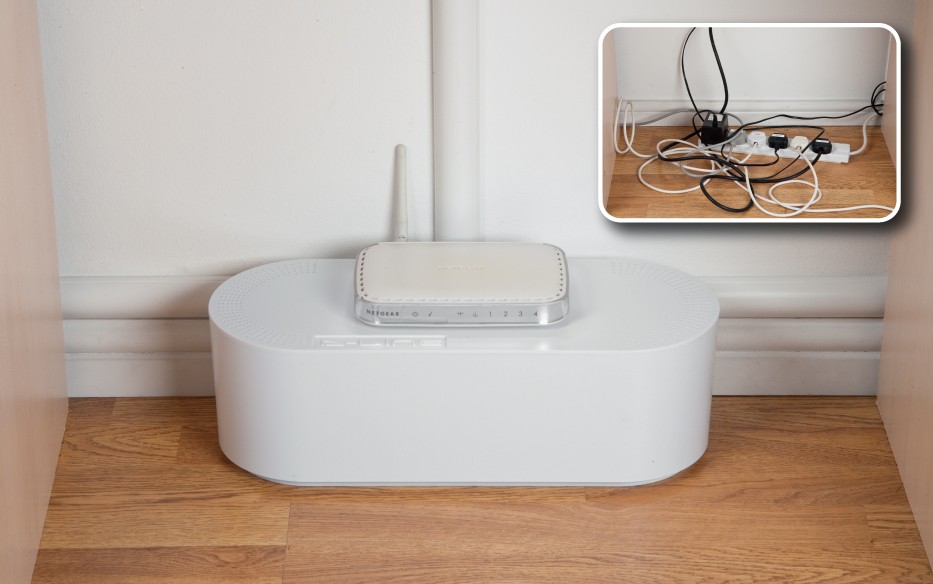 Label all your cables
Getting down on your hands and knees in the little nook behind your TV can be absolute agony, you don't want to spend any more time than necessary down there.
One common problem people face is having to trace wires all the way from the top to the bottom to make sure they are unplugging the correct lead.
There are many different cable identification solutions on our website, from permanent printed heat shrink tubing to cold-applied markers.
You could also consider investing in a label maker. If you are looking for a basic, low-cost cable identification solution then you could just use adhesive paper labels to mark cables.