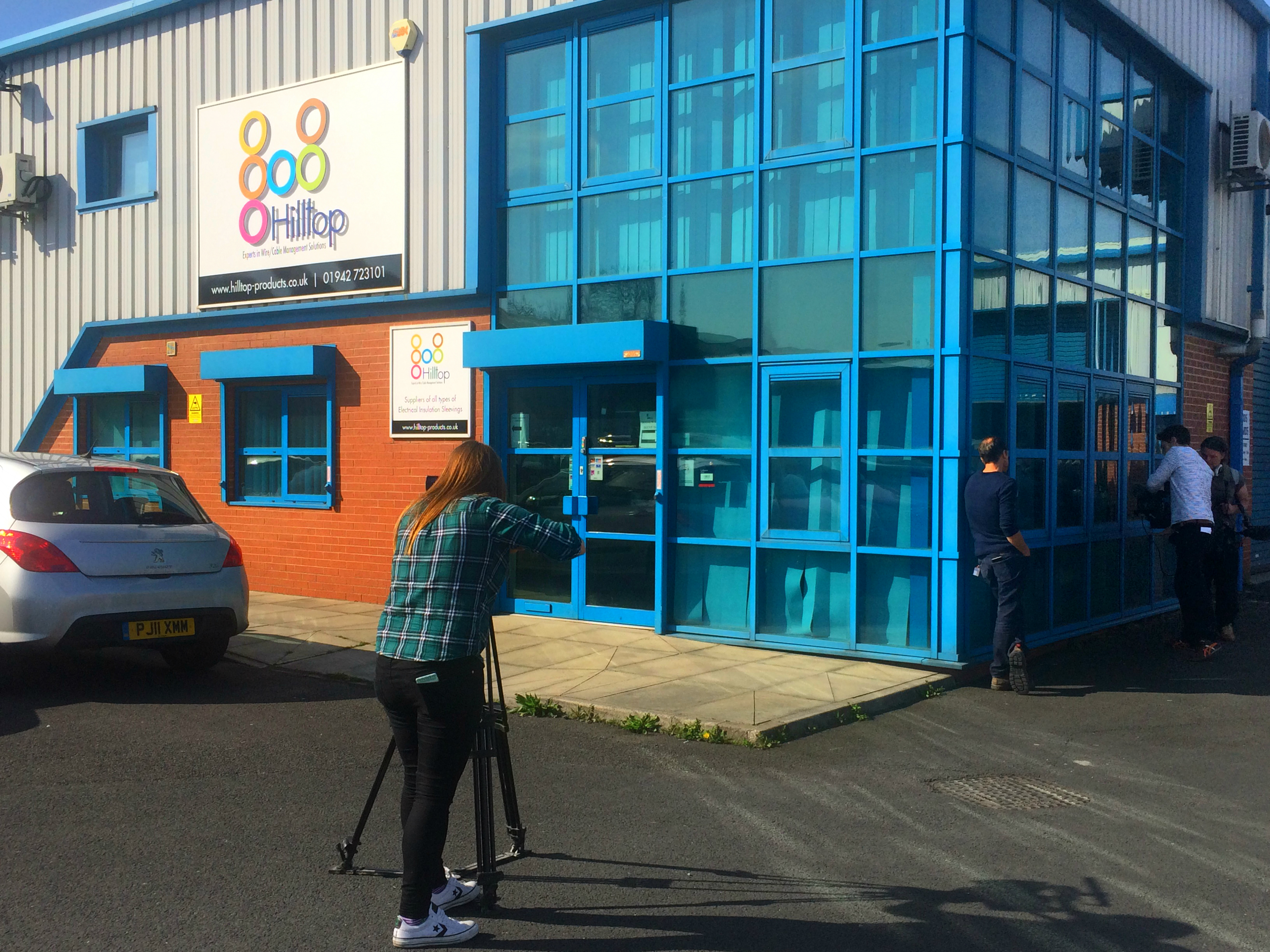 In 2015, Hilltop Products were privileged to receive a visit from the film crew for the BBC2 series "The House that 100K Built". Filming on a new series had already begun, and a young couple were trying to finish off their budget home build. Having just visited the prestigious Midland Hotel in the city of Manchester for some lighting inspiration, they were looking for some new chandelier lighting design ideas that would provide a similar more bespoke, luxurious and individual look without breaking the bank,
Arrangements were made for the couple, along with TV architectural guru Piers Taylor and a film crew, to get to grips with some of the more unique coloured expandable and copper braided sleeving products that Hilltop hold, of which they could incorporate within the lighting design. This gave them the valuable opportunity to physically hold and see how different sleevings may look in conjunction with the lighting ideas and designs that Piers Taylor had suggested for their new home.
The BBC2 show follows individuals, couples or families looking to build their own home with under £100,000. This requires a lot of creativity and ingenuity to complete an entire home with the functionality and aesthetic desired. Their visit to us at Hilltop was predominantly in an effort to incorporate various braided cable over-sleeving products in the design of this chandelier that would look the part at a fraction of the price that such bespoke lighting would normally retail for. Wajid also is a local councillor, so at times he needs a public space for entertaining important guests - and to top it all they wanted a luxurious finish on a par with a Dubai hotel!
Presenter and designer Piers brought along retro industry incandescent bulbs to marry with our various cable over-sheathing products, this to provide couple Wajid and Anam with both traditional and more modern creative ideas for bespoke luxury lighting within their limited budget.
Piers re-created a traditional period antiquated look with natural acrylic coated fabric braid, whilst also offering a more modern twist with a combination of brightly coloured expandable fabric and tinned copper braidings.
These design inspirations from Piers Taylor, along with the interest received since the filming inspired the Hilltop Marketing team to create a new section within the website and business, completely devoted to these 'Decorative Sleevings' - perfect for budding DIYer's and architectural lighting designers alike. It means everything you need is in one easy place. Whilst we supply various products and materials to the film and special effects industry here at Hilltop Products, this was the first time being directly involved with any British reality television programme, and it was a great experience for all. The programme aired on 14th July 2015, at 8:00pm on BBC2.
Managing Director Steve Hill with presenter Piers Taylor and some of the film crew.Please follow this link to the official 'The House that 100k Built' programming schedule on the BBC website.