Spare time to fill? With the Spring weather starting to make an appearance, why not take some time to get a few of those little jobs around the house and garden done? There are always plenty of things that can be done, and we have a wide range of products for almost every kind of problem - no matter how big or small!
We love DIY. A successful project is great for improving brainpower, confidence and overall wellbeing.
Below, we have suggested a few projects that you can complete using products from Hilltop's online store.
Add Grip to Your Sports Equipment
Heat shrink tubing can be used to increase the grip size of any kind of sports racket. If your grip size is too small it can affect your performance and is also a common cause of tennis elbow.
Heat shrink is a cheap and easy solution to this problem. With a grippy textured pattern, this non-slip heat shrink tubing will help to give you more control so you can master your game. Not only that, but it adds some colour and interest too!
All you need to do is measure out a piece of heat shrink to the correct length of the handle and then use a heat gun to shrink it down. Then you're good to go!
Hang Some Art (Without Damaging Your Walls)
If you're anything like us you probably have a bunch of paintings, portraits or photographs that you have been meaning to frame and hang for months or even years.
Instead of being showcased, all that lovely artwork is just starting to pile up around the house instead. Sound familiar?
Whether it's because you are procrastinating, intimidated or just don't have the right tools, the bank holiday weekend is the perfect time to get everything in a frame and displayed around the house.
If it all seems too daunting to start, first pick out just your key art pieces that will be going in each room. Decide on the most suitable spot, and then work on positioning around that.
The only thing worse than a wonky photo frame, that sits in a really awkward position in the room, is that photo frame ruining your walls and decor! Tacks and nails can do more damage than good, so luckily there are plenty of Velcro products that have enough industrial holding power to suspend even the heaviest frames.
It means you can hang up all your photos and artwork without worrying about the wall underneath.

Upcycle Your Furniture
Hot air glue guns can be used to stick anything to anything. The holding power is phenomenal and this means you can use it for a wide range of projects. Use it to stick new fabrics to your furniture to give them a bit of a facelift, decorate some old vases or even add details to photo frames. There are so many different things you could do to give your old furniture a new lease of life! Find more ideas here.
Make Your Own 3D Artwork
Don't want to hang someone else's art? Why not make your own?
This is a great activity for keeping the kids entertained over a rainy weekend and gives them something to be proud of. Beats seeing their drawings just stuck to the fridge!
3D Art is a great way to add texture, creativity and interest to a piece of artwork, and all you need is a hot air glue gun and something for decoration. You can design all sorts of patterns with hot glue, wait for it to dry and then create layers and layers to get the 3D effect. Once finished, you can paint it however you please. Older children will be fine using one as long as they are supervised and this activity means older children can feel like they have more responsibility, whilst younger children can enjoy choosing decorations and let their creativity go wild.
Combine it with a nature walk to truly keep the kids interested. Collect some interesting rocks, shells or pebbles and glue them to a sheet of plastic when you get home. You could even grab a few sticks from the garden and create your own magic wands using hot glue to give them different shapes and designs.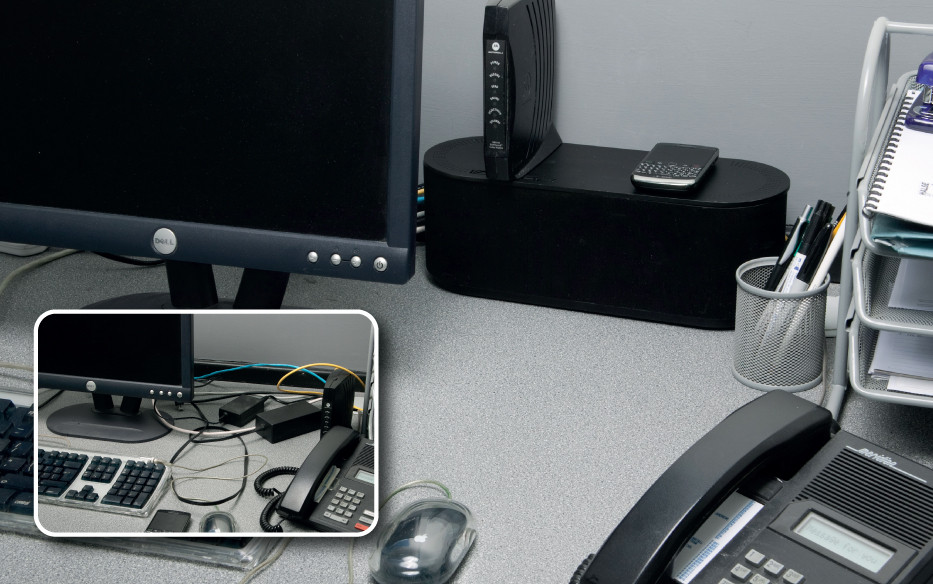 Sort Out Your Entertainment Station
Does your television set or computer desk look like a spaghetti junction with cables spilling out in all directions?
We like to keep things neat and tidy at Hilltop Products, that's why we got into cable management. Entertainment stations are one of the places where cables and wires can be most unruly around the home.
When you have a DVD player, games console, set-top box and all sorts of other devices that need power cords, inputs and outputs, the snaking mass of cables can get very messy indeed if you don't have a proper organisation plan in place.
Fortunately, at Hilltop Products we have a huge range of products that can help with this.
Semi-permanent fittings like cable ties, KBullKlips and heat shrink tubes can easily separate and direct wires in a clean and clear way without causing any damage to either the wires or your house.
We also have cable tidy units that are designed to hide extension lead cables from sight whilst still looking good.