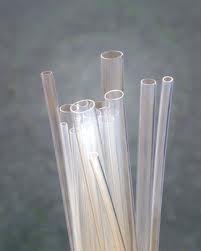 PTFE tubing is very essential, whether it's a household use or commercial use, just as how heat shrink tubing is used in various applications and needs. If you don't know what these are, keep reading and you will definately know how and where to use them.
PTFE tubing has various uses, for example they can be used to protect wires, connections and joins in the aviation industry and in the military. It is basically a coat that is applied around these wires to insulate, cover and guard it from heat, water, dust and other materials. Although insulation is one of its main uses, it is not the only one. It can be used in pairing or bundling wired together, for example, the forest of tangled wires behind your PC can be easily organised using heat shrink tubes.
This is why they are now commonly used in houses instead of being used exclusively in industries. As for their industrial application, heat shrink tubes can be used to cover the metal grips of any tools, dip bars and other equipment. If you put your mind to it, you will definitely find a suitable use for PTFE tubing in your home, whether it is electric wires, tools or as simple covers to metal tools. Another main advantage of these heat shrink tubes is the fact that they come in a variety of colours, which makes sorting the whole colour coding so easy when it comes to repairing and bundling wires.
These tubes can be made from a variety of thermoplastic materials such as Viton, FEP (Fluorinated ethylene propylene), PVC (Polyvinyl chloride) and PTFE (Polytetrafluoroethylene). Many of the adhesive lined heat shrink tubes found in the market use a very specific type of adhesive to make the tube become more rigid and strong so it can have a good seal on the connections and wires that lies within. And of course such PTFE tubing is waterproof to protect the wires from water.
When you are on the market to buy these kind of tubes, you will find them categorized depending on their shrink ratio, it is the ratio of the shrunk tubes compared to its original size. For instance, PTFE tubing that has a shrink ratio of 2:1 means that it will contract to half of its original size when it is shrunk. There are also 3 categories of such type of tubing, thin wall tubing, thick wall tubing and medium wall tubing.
Adhesive Lined Heat Shrink Tubing >>>