Please fill in the form below to receive your quotation:
Add Personalisation
Text

Number

Text & Number
Text Element
Text & Number Element
Number Element
Skip Personalisation | Request a Callback
Product Info

Details

Marker ties are made from durable natural nylon. The ties provide a generous area for identification marking with a permanent marker pen. These marker ties are 100mm - you can also find 110mm here.

Size: 100mm long x 2.5mm Wide. Tab size = 25 x 8mm.

Material: Durable Natural Nylon.

Hilltop Marker Ties provide a quick and effective method of securing and marking bundles of cables and Securing Clinical Waste Bags.
Single use.
Also used for component marking and pipe identification.
Other uses: Clinical waste bags, First aid boxes, Firedoors and Enclosures of many kinds.
Markings can be made with the Hilltop Permanent Marker Pen.
Additional Information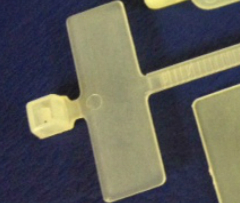 Can't find what you are looking for?
If you can't find what you are looking for, or need volume discounts, give us a call on +0044 1942 723101. Our sales team are always happy to help!
Contact Us