Please fill in the form below to receive your quotation:
Add Personalisation
Text

Number

Text & Number
Text Element
Text & Number Element
Number Element
Skip Personalisation | Request a Callback
Product Info

Details

2-Way Outlet Shape 202-1-B7WM250

Hellermann Tyton Helashrink 200 Series, Article number: 402-02002

Cable breakouts are manufactured from a tough cross-linked flame retarded polyolefin. This allows the breakouts to be used for both interior and exterior applications.

This style is used for cable strain relief and mechanical protection. Product can be installed on the connector rear thread or plain shaft.

Colour: Black

Product Family: Helashrink 200 Series

Product Group: 2-Way Outlet Shapes

Type: 202-1-B7WM250

Operating Temperature: -55°C to +135°C

Min Shrink Temperature: +135°C

Product Dimensions

Flexibility
Semi rigid
P ± 10%
50.8

mm

R ± 10%

30.5

mm

∅ H max b
9.4

mm

∅ H min a
19

mm

∅J max b
3

.8mm

∅J min. a
7

.6mm
Additional Information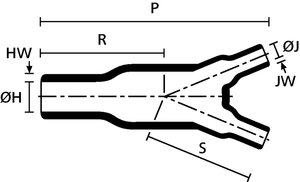 Can't find what you are looking for?
If you can't find what you are looking for, or need volume discounts, give us a call on +0044 1942 723101. Our sales team are always happy to help!
Contact Us