Product Info

Details

Collect yourself and receive a 25% refund on 30mtr and 90mtr packs!

All packs will be supplied in 1 mtr lengths.

Discounted local collection and free local delivery available. See below for details.


Manufactured to be durable and impact resistant, offering incredible protection and ideal for surface mounted cables. It's high strength makes it safer for use on sites with hazardous or dangerous conditions where normal conduit is likely to become damaged and therefore ineffective.

Heavy Gauge Conduits are designed to accomodate local thermal expansion and contraction. The coefficient of linear expansion: 7.0 x 10 -5°C to 60°C.

This conduit is manufactured to BS4607-5, BS EN 50086-2-1 and BS EN 61386-21 standards

Specifications

Specifications:

| | |
| --- | --- |
| Colour / Finish | White |
| Length | 3 m |
| Weight | 0.113 kg (per M) |
| Flame Retardant | Yes |
| Material | High Impact Resistant uPVC |
| Number of Compartments | 1 |
| Packaging Types | Length |
| Product Range | Conduit |
| Size / Shape | 20mm |
| Self Adhesive | No |
| Standards | BS4607-5, BS EN 50086-2-1, BS EN 61386-21 |
| Softening Point | (Extrusions) 82°C BS 2782 Method 120B |
| Thermal Properties | uPVC trunking systems are designed to accommodate local thermal expansion and contraction. The coefficient of linear expansion: 7.0 x 10 -5°C to 60°C |

Reviews
Additional Information
Free Delivery Guideline Map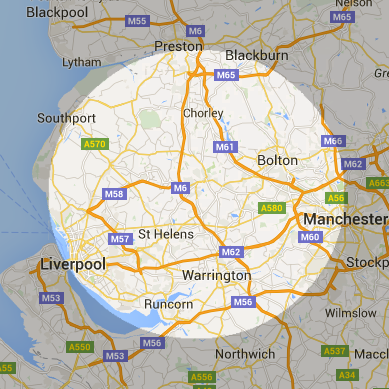 As is the experience on all distribution of this product line, no UK courier will deliver the large 3mtr continuous lengths at their normal economical prices. Hence, we have looked to be a little more creative with transport options in order to bring the best savings to our customers who may wish to make their own collection.
Similarly, customers within 20 miles of our Warrington base can benefit with a discount plus a free delivery service via our own transport for orders with a consignment value of £300.00 Net of VAT! See the map above for coverage. Please note, this is intended as a rough guideline only. Please ring for full details.
Find what you are looking for?
If you can't find what you are looking for, or need volume discounts, give us a call on +0044 1942 723101. Our sales team are always happy to help!
Contact Us