About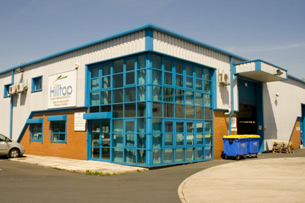 Hilltop has 40 years experience in the supply of heat shrinkable tubing and the manufacturing of PVC tubing. We Supply a wide range of Heatshrink tubing, Cable protection and Cable identification products to many industries such as Automotive, Aerospace, Military, Marine and also many commercial applications throughout Europe and, to many destinations across the world.
We offer cable protection and identification solutions with fast turnaround, on-site cutting, printing and kitting facilities allowing us to meet individual customer specifications. Our success is built on the outstanding level of customer service provided to all of our customers.
Hilltop hold an extensive range of products in a wide range of colours and sizes in stock and available for shipment same day.
We are the only UK supplier of Heat Shrink, Cable Protection and Identification products that will hold any stock line for our customers out to a 16 month end date, ready to call off for same day despatch with no associated costs until your order is received.
Read more about our Unique Call Off Facility>>>
Some of our valued customers:

Support Helpline
Need assistance? Give us a call
or chat with us online
Testimonials Ecomm Testimonials
Very Happy with the service that you have provided, we needed a fast response and resolution for our KERS System. You were very quick to assist and the service was perfect.
Clare
Red Bull Technology
Hilltop is the best supplier I have and you are the best contact person I got. really want to tell you thank you so much for your continuous support, I don't remember that I asked you one time for help in any issue, asked you to increase qtys or even to support with new parts and you did your best to help me.
Reem Halim – Procurement
Leoni wiring Systems Egypt-LWSE
Thanks Rebecca, enjoyed much talking to you as well. Thanks for all the assistance with the samples, our trials for the silicone tube went well and we are now ready to put this into production. I was absolutely happy with the service provided, it was very grand. We will use this silicone tube in our fishing process as protection against lacquer and paint on our lures.s
Kari
Rapala VMC - Finland
Very clear layout – succinct, pictorial and textual info for all items. Very easy navigation using blue banners at page top and the links from those
Lucy
United States
Just to say what fab service and delivery. Your products are just fab and do the job well. Nice to see a website that puts out all the stops along with good customer service.
Rachel
Dorset
Thank you for your excellent service. We are very satisfied with the products purchased. I have had a quick look at the website -- but were are very busy at the moment so have not taken it all in - will have a proper look when more time. We use your heatshrink on from basic battery link cables to equipment to Mercedes, Daf etc.. on the line. Yes we would like a product catalogue.
Jenny
Telford Shropshire